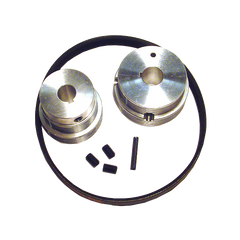 Pulley Kit
Drive Motor Aluminum Serpentine Pulley Kit for RELS model 2000 & 2000XL Brake Lathe.
Kit includes: (1) Large Pulley, (1) Small Pulley, (1) 20" Serpentine Belt, (1) Drive Pin (used only on Ammco models)
Also fits the following model lathes:
Ammco models 3000, 4000, 4100, 7500, 7700.
Ranger models RL-8500, RL-8500XLT
Replacing older style V-Belt Style Pulleys with the 50001 kit increases the RPMs for a quieter lathe and will also reduce chatter and vibration.
2 speed pulleys: 150 & 200 RPM
OEM 40175