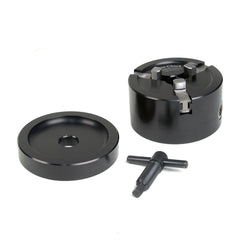 Optional Accessories:
Quick Chuck Adapter
Quick Chuck Adapter
Universal Brake Lathe Adapter (Model 70040)
Its unique self centering design makes Quick Chuck the simplest, quickest and most precision brake lathe adapter for machining Hub-less Drums, Rotors and Composite Rotors on any 1" arbor brake lathe while eliminating run-out and set-up problems. The weight and mass of the Quick Chuck with Backing Plate virtually stops Chatter and Vibration in its tracks.
The Quick Chuck, with all optional accessories allows machining of Drums and Rotors with centering holes from 2-1/8" to 5-3/4" (with optional truck jaws) from compact cars up to 1-ton trucks.
Features:
Eliminates run-out and set-up problems with its self-centering feature
The weight and mass of the Quick Chuck with Backing Plate virtually eliminates chatter and vibration from all hub-less applications, including composite drums and rotors
Fits all popular 1" arbor brake lathes.
Eliminates centering cones, clamping cups and composite adapter systems.
Fits drums and rotors with centering holes from 2-1/8 to 5-3/4" from compact cars to 1-ton trucks (with optional Accessories)
75% fewer pieces means less maintenance and minimal replacement costs.
5 year limited warranty
As easy as 1-2-3
Mount Quick Chuck on top side of the Rotor or Drum
Slide Backing Plate and Quick Chuck assembly onto Arbor
Add spacers, Arbor nut and tighten


*Drum pictured requires optional Large Jaw Set and Large Backing Plate