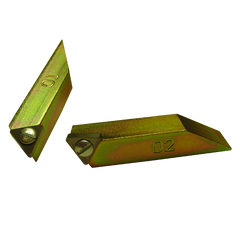 Ammco Tool Holder Set
Ammco Style Negative Rake Tool Holder Set for the model 4000, 4100, 7000 lathes.
OEM # 6999
Set includes the right (10701) and left (10702) hand holders each with one 45001 carbide insert installed.
Holders can be used on the Ammco 6950 twin cutter and the RELS 40095 twin cutter using the 45001 carbide inserts.